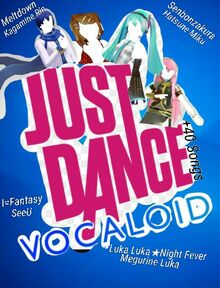 Just Dance Vocaloid is a spin-off of the Just Dance series. The game was released on January 23, 2016 in the NTSC region, February 2, 2016 for the PAL region, and February 5, 2016 for Japan and U.K. Template:Infobox videogame
MMD: MMD, also known as Miku Miku Dance is similar to the classic, but with MMD versions of the characters instead of the classic version. This mode makes it more harder since the moves are more robotic than the choreographer. 
Sweat & Playlist: To customize workout sessions
Challenge Mode: Challenge Mode is a monthly competition, you can submit your videos of you dancing to a song and submit it to Ubisoft. The top 3 winners will get an exclusive avatar and song.
Alternate Chereography: Alternate Chereographies are other dances of the songs. Like Community Remix, mashups, etc.
Tracklist
Edit
"*" = Covered.
"JD16" = Featured on Just Dance 2016.
"JDWU" = Featured on Just Dance Wii U.
"NNU" = Made by a Nico Nico Douga user.
"U" = Utauloid song.
"JP" = Japanese version of a song.
"KP" = From Kagerou Project.
"F" = Fanloid song. 
Song
Vocaloid
Mode
Dancer
A Born Coward
 Megpoid GUMI
Solo
Meltdown
Kagamine Rin
Solo
Senbonzakura
Hatsune Miku
Trio
A Whole New World (JP)
MEIKO, KAITO
Duet
Lost My Music (Cafe Ver.)
Megurine Luka
Solo
Dancing Samurai 
Kamui Gakupo
Trio
Mr. Music
Kaai Yuki, Rin Kagamine, Len Kagamine,  Hatsune Miku, Gumi, Megurine Luka
7 Player
Matroyshka (*), (NNU)
vipTenchou, 96neko
Duet
single-mindess (NNU)
ill.bell, nqrse, Reol
Trio
Teto Territory (U)
Kasane Teto/Ted, Hatsune Miku, Meiko
Trio
Wave
Lily
Solo
-ERROR (U)
Namine Ritsu
Solo
Trick And Treat
Fukase, Oliver
Duet
Song of An Eared Robot (*) (U)

Kasane Teto

(SF-A2 Miki)

Solo
Colorfull Filter
Akikiloid-chan
Solo
Ievan Polkka (JD16)
Hatsune Miku
Solo
Tell Your World (JDWU)
Hatsune Miku
Solo
LUVORATORYYYYYYYYYY! (*) (NNU)

Megpoid GUMI and Kagamine Rin

(Reol, nqrse, 96neko and Kradness)

Dance Crew
I=Fantasy
SeeU

Solo

Hello Planet (*) (U)

Hatsune Miku

(Momone Momo)

Solo
Rebound [SHEBA] (U)
Hakaine Maiko, Namine Ritsu
Duet
Outer Science (KP)
IA
Solo
Kagerou Daze (KP)
Hatsune Miku
Solo
Galaxias
Galaco
Solo
A Lie and a Stuffed Animal
MAYU
Solo
Luka Luka★Night Fever
Megurine Luka
Solo
Crystalline
Megpoid GUMI
Solo
Daft Punk Medley (*)

Pentatonix

(YOHIOloid, Kagamine Len, Cyber Diva)

Trio
Drop Pop Candy
Rin Kagamine and Megurine Luka
Duet

FL FL ni Shite Ageru (U)

FL-Chan
Solo
Worlds End Dancehall
Megurine Luka, Hatsune Miku
Duet
Rolling Girl (Rap Ver.)
Hatsune Miku, KAITO, Kagamine Len, Utatane Piko
Dance Crew
Freely Tomorrow 
Hatsune Miku, Kagamine Rin, Kasane Teto
Trio
Ten-Faced
Megpoid GUMI
Solo
Nostalogic 
MEIKO
Solo
Double Lariat
Megurine Luka
Solo
Stop Nagging Me (F)
Akita Neru
Solo
Cendrillion
KAITO, Hatsune Miku
Duet
Paradichlorobenzene
Kagamine Len
Solo
Miki Miki Romantic Night
SF-A2 Miki
Solo
Our 16bit Warz
Megpoid GUMI
Solo
Daughter Of White (F)
Yowane Haku
Solo
Removed Songs
Edit
| Song | Vocaloid | Removal Reason | Removed On |
| --- | --- | --- | --- |
| Okaasan | Hatsune Miku | The song was very triggering and caused nightmares for beta  players. Especially the meaning.  | January 24, 2016 |
| The Lost One's Weeping | Kagamine Rin | Didn't think it was a good fit for the game.  | February 26, 2016 |
| Bio Hazard | Megpoid GUMI | Copyright infringement was Circus-P | January 23, 2016 |
| Song | Vocaloid | Mode | Price | Dancer |
| --- | --- | --- | --- | --- |
| Melancholic | Kagamine Rin | Solo | 400 Wii Points/$3.99 | |
| Electric Angel | Kagamine Rin and Len | Duet | 400 Wii Points/$3.99 | |
| Deep Sea Girl | Hatsune Miku | Solo | 400 Wii Points/$3.99 | |
| An Earnest Unrequited Love | MAYU | Solo | 400 Wii Points/$3.99 | |
| Vocaloid Pack | Kagamine Rin, Kagamine Len, Hatsune Miku, Mayu | Solo/Duet | 1000 Wii Points/$5.99 | |
Unlockable
Edit
| Song | Vocaloid | How to Unlock | Mode | Dancer |
| --- | --- | --- | --- | --- |
| Lily Lily Burning Night | Lily | Get 500 Mojo Coins | Solo | |
| The Spider  Kitsune Like Lion | Hatsune Miku and Gumi | Play all songs in the game | Duet | |
| Half and Half | Luo Tianyi | Get 1000 Mojo Coins | Solo | |